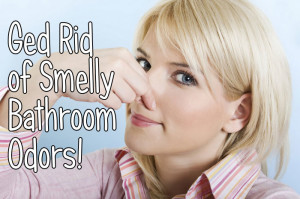 We all know that bathrooms can hold mysterious odors, but did you know your grout could be the culprit? Do you know how to clean grout to get rid of the funk and prevent future odors? After understanding what causes grout odor, you can better attempt to fix the problem. We have some helpful do's and don'ts on how to combat this unpleasant problem.
What Causes Grout Odor?
Grout odor is caused by bacteria, mold, mildew, or other contaminants absorbed into the floor. Grout is especially good at cultivating bacteria because it is porous and hard to clean. The good news is that an effective initial deep cleaning and regularly scheduled cleanings after that can eliminate the smell. The bad news is traditional cleaning methods won't do the trick on tile or grout.
The mop is often the go-to cleaning tool for bathrooms. Unfortunately, mops don't eliminate bacteria and can even worsen grout contamination because they essentially just spread bacteria around the floor.  As soon as the mop is dipped back in the bucket, the rest of the cleaning solution is contaminated and your remaining cleaning efforts are ineffective.
The inefficiencies of mopping can actually worsen grout odor. Because grout is so rough and porous, a mop has no way of penetrating that surface and removing impurities. Oftentimes, the groove between the tile and grout can even pull contaminants out of the mop and transfer them into the grout's pores.
However, there is still hope for cleaning your bathroom floors and eliminating grout odor.
What Can You Do To Eliminate Grout Odor?
Now that you know what causes grout odor and how not to address it, you're ready for the do's on eliminating grout odor.
One way to clean your bathroom floors involves using an acid solution and a stiff bristled brush to vigorously scrub the tile.  However, this is tedious and daily cleaning is recommended. Who has time for that? Not to mention the amount of harsh chemicals you and your bathroom will be exposed to.
New technologies and businesses that specialize in floor cleaning have made it easier and more convenient than ever to effectively remove odor-causing impurities from grout. Vacuum extraction systems use a cleaning solution and vacuum process to clean bathroom floors. The cleaning solution works to agitate soils for the vacuum.  Then, the vacuum uses water pressure in a suction dome to lift the cleaning solution, remove all contaminants, and dry the floor.
The Grime Stoppers have advanced soil removing technology that deep cleans floors and removes grout stains and odors.  Our non-toxic, eco-friendly cleaning solution loosens up bacteria and grime that has been ground into your floors. We specialize in cleaning, coating, and maintaining tile and grout.  This means cleaner floors, less maintenance, and fewer harsh chemicals.
Our patented cleaning tools can make your floors look brand new. We offer monthly maintenance and all of our work is guaranteed.  If you are interested in having your floors pampered with a deep clean, durable coating and regular maintenance, contact The Grime Stoppers today.