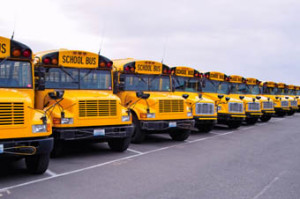 We are really excited about the new PURETi product line and want to share some of the incredible ways this technology can be used in a wide variety of applications.  PURETi products are highly effective for residential uses, as we've discussed in earlier blog posts, but PURETi can also be extremely valuable for commercial purposes.
Just as it can help keep cars clean and odor-free, PURETi is an innovative cleaning product that can be used to help minimize maintenance and increase air quality for mass transit buses. The cleaning power of PURETi is also extremely long lasting, so just a single treatment can keep working for 3-6 months.
Self-Cleaning Windows
Have you ever thought about how much grime can build up on the inside of bus windows as passengers lean on and look out of them while traveling?   Just like any other passenger vehicle, bus interiors are exposed to hydrocarbons and petrochemicals that can be released by plastic materials, exhaust, particulate matter, and other compounds that are oily in nature.  These substances can quickly build up on windows, creating a dingy, dirty film.
It seems pretty obvious that transportation companies would want to control that nasty grime for improved passenger comfort and satisfaction.  The solution: PURETi Fresh.
This product is an environmentally friendly glass cleaner that uses natural energy from sunlight to safely break down and oxidize organic grime that can create a dirty film on windows.  The surface of the treated glass will stay cleaner for longer and will resist fogging better than with traditional cleaners.  This reduces labor costs related to cleaning bus interiors and also saves energy and resources over other cleaning methods.
PURETi Fresh not only helps keep windows clean for up to 6 months after being treated, but those windows also help keep the rest of the bus interior cleaner.
How? You ask.  PURETi not only works on the windows, but also works to oxidize particulates and malodors in the air.
PURETi for Buses: Improved Air Quality
The active ingredient in PURETi Fresh is titanium dioxide (TiO2).   The TiO2 compound in PURETi Fresh acts as a photocatalyst, harnessing the energy from natural sunlight to create a chemical reaction that oxidizes organic particulates.  When applied to the interior surface of bus windows, PURETi's photocatalytic properties help to naturally purify the air and eliminate unwanted odors inside the cabin of a bus.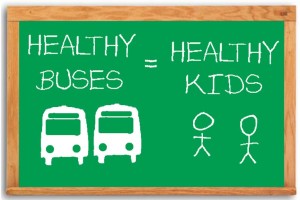 PURETi Fresh is completely odorless and non-toxic, so bus passengers with sensitivities will enjoy clean, fresh air without any added perfumes or chemical fragrances.
The self-cleaning technology of PURETi products is taking the concept of green cleaning to a whole new level.  If you would like to learn more about the line of PURETi products available for both residential and commercial applications, contact us today or click here to order your supply.