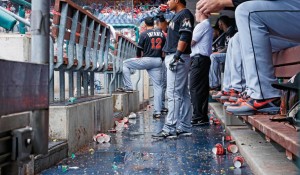 With modern developments in nanotechnology that are just this side of magical, multiple surfaces are being treated with a spray-on coating called PURETi. Once applied, the treated surfaces themselves are actually becoming cleaning machines.
Billboards, windows, vehicles and buildings coated with PURETi are pulling pollutants like smog and other vehicle emissions out of the air. The coating also uses light to interact with dust, grime and even mold to keep surfaces cleaner.
PURETi Put to the Test
As reported in Newsweek*, PURETi's developers tested their product in a section of one of the stickiest, grimiest spots in the country: a football stadium. The company that previously had to power wash Sun Life Stadium—home to the Miami Dolphins—knew within weeks that a sunny day was all that was necessary to achieve the same results as power washing. For the stadium, this meant a savings of up to $90,000 after every game!
The Science of Nanotechnology
Nanoparticles of titanium dioxide are the superstars of PURETi's innovative formula. Titanium dioxide is the most common paint pigment in the world and is also found in sunblock, toothpaste and cosmetic products. In a process called photocatalysis, ultraviolet light energizes titanium dioxide molecules. The energized molecules interact with water molecules in the air, creating free radicals that eliminate vehicle emissions and other volatile organic compounds (VOCs).
Air Cleansing Benefits of PURETi
While PURETi's cleaning power makes the world a brighter place, it's the unseen benefits that deliver the most value. The smog and VOCs that everyone is breathing take a toll on our health, especially children and the elderly. Even a seasoned marathon runner's breathing is negatively affected after running near busy traffic. Inside, you can count on a coating of PURETi to reduce VOCs emitted by carpets, upholstery and paints. When PURETi pulls pollutants out of the air, everyone literally breathes easier.
Multi-tasking PURETi also prevents the build-up of dirt, grime and dust.  An ultra-thin coating of PURETi is not detectable to an object as big as, say, a human, but at the microscopic level it's very slick. Tiny airborne particles that would otherwise equal a layer of gunk interact with the surface and convert to end products that slide off.
Amazingly Long-Lasting Effects
One professional application of PURETi lasts for up to three years inside and up to five years outside, providing full benefits the entire time. The cost of application is extremely affordable relative to the significant savings on supply and maintenance costs. Even if you aren't power washing a football stadium, you're likely to reduce required water, energy and chemicals to clean by half. When cleaning is easier, it's also quicker, so labor costs are reduced, too.
The Grime Stoppers' trained and certified PURETi application technicians use specialized spray equipment to deposit an ultra-thin film (25,000 times thinner than a business card) that dries in seconds and cures in hours to form an invisible polymer-like ceramic film that is durably bonded to the treated surface.
An added plus for new construction is that PURETi holds an SCS Global Services certification which makes it an Environmentally Preferable Product and point worthy in the LEED program of the U.S. Green Building Council.
Green nanotechnology that has a positive impact on your bottom line – now that's what we call "beneficial!"
For more information about professional PURETi applications or to try the DIY version of PURETi, contact the Grime Stoppers today.
*The Newsweek article referenced can be found by clicking here.