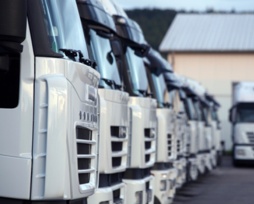 Keeping the interior of your company's fleet vehicles clean is just as important as keeping the outside clean.  You want clean windows and a fresh smelling interior for your employees and customers.  PURETi Fresh is the answer.
PURETi Fresh is an environmentally friendly, water-based photo-catalytic glass cleaner that also cleans the air.  PURETi Fresh's active ingredient uses the energy from natural sunlight to break down organic grime, odor, and pollutants.  While in the sunlight, treated interior glass keeps itself cleaner, resists fogging, and improves the air quality inside fleet vehicles.  Just one application reduces smoke and food odors for months at a time.  It also helps minimize dust buildup on the dashboard because it oxidizes particulate matter.
Benefits of PURETi Fresh for Truck Fleet Maintenance
Improved Fleet Vehicle Interior Air Quality
PURETi Fresh breaks down VOC's (volatile organic compounds) that impact human health.  It uses photo-catalytic titania to oxidize organic micro-particles including many harmful pollutants typically found in vehicles. 
Odor Elimination
When applied to interior windows on fleet vehicles, PURETi Fresh will deliver the benefit of powerful odor elimination.  Many products mask odors, but PURETi Fresh is different.  PURETi Fresh combines a high quality, streak-free glass cleaner with light-activated technology that actually destroys odors.  When your fleet vehicle is exposed to light after applying PURETi Fresh, the windows will work to destroy lingering odors.
Cost Savings
Cleaner surfaces mean reduced maintenance, saving your company up to 50% in water, energy, and labor costs.
The Problem with Dirty Fleet Vehicle Windows 
Hazing, fogging, and film buildup can obscure the driver's vision.  The formula In PURETi Fresh reduces the hassle of regularly cleaning fleet vehicle windows because it keeps working even after the initial application.  Regular window cleaners only work for a day, but PURETi Fresh continues to work for months afterwards.
PURETi Fresh: Frequently Asked Questions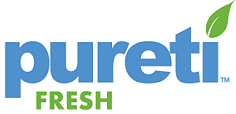 How long does PURETi Fresh last?  Under normal conditions, you can expect it to last 3-6 months.  Use of harsh chemicals or hard scrubbing can remove the product.
What if my fleet vehicles are parked in a covered garage and not out in the sunlight all day?  UVA light is the natural energy that powers PURETi Fresh.  Light must be present to utilize the benefits of the product.
What if I accidentally get PURETi Fresh on the leather or fabric of my fleet vehicle?  PURETi Fresh will not stain or damage most surfaces.  If you get some on your fabric or leather, simply wipe the area clean with a wet cloth before it dries.
Can I spray the outside of my windows with PURETi Fresh?  This product is specifically designed and approved for interior use only.
Contact Grime Stoppers today for more information or to order your supply of PURETi Fresh!