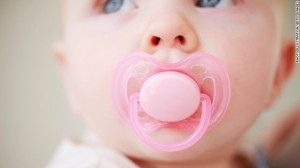 Everything gets a little more complicated once you introduce a baby into your home, especially choosing the safest cleaning products.  Most disinfecting cleaning products, like chlorine bleach, contain harsh chemicals that are harmful for adults to come in contact with, let alone babies and children. But the disinfectant Vital Oxide uses chlorine dioxide instead of bleach, making it a much safer cleaning and disinfecting product.
How is Vital Oxide Safe For Baby?
While most other cleaning products that remove mold and bacteria contain harsh chemicals that can cause health issues, Vital Oxide contains no ozone harming volatile compounds and does not emit any dangerous by-products. This means it won't cause eye irritation, headaches, rashes, or nausea like other common, harsh chemicals found under your sink. It is ecologically sound and non-corrosive, so it does not irritate skin and will not damage surfaces. In addition, Vital Oxide is a no-rinse required sanitizer that is still safe for your baby even if your surfaces are not rinsed with water after application.
Where Can I Use Vital Oxide That Will Be Safe For Children?
You can use Vital Oxide to safely clean most areas where children and babies will be. It is a disinfectant, odor eliminator, and mold and mildew remover. Because of this, it can replace a variety of harmful cleaning products you may have in your home that are not safe for children. Nearly any area that your child or baby will be can be cleaned safely with Vital Oxide.
Bathroom
Vital Oxide can be used to clean bathroom floors, shower curtains, mirrors, sinks, bathtubs, showers, drains, and toilets. All of these areas will be safe for your child if they are cleaned with mild, non-corrosive Vital Oxide.
Kitchen
In addition to bathroom surfaces, Vital Oxide can safely clean your kitchen as well. The stove, refrigerator, trash can, floor, counter top, appliances, and cutting boards can all be cleaned without emitting harmful by-products that could come in contact with your baby.
Basement
Mold and mildew can be found almost anywhere there is moisture, and this can trigger asthma attacks or allergies. To protect your child from these health risks, you can safely treat basements, bathrooms, and other places with Vital Oxide.
Car
Let's face it.  Hauling a baby around in the car can be messy business. From baby spit-up to diaper disasters, Vital Oxide is the solution. Not only does it safely disinfect so the area is safe for children, but it also eliminates any residual odor.
Diaper Bags
Vital Oxide is safe and gentle enough to disinfect and eliminate odors from diaper bags and pails.
Where Can I Get Vital Oxide?
The Grime Stoppers sells convenient sizes of Vital Oxide for DIY use. The 3oz spray bottle is convenient for use on the go, while the 32oz spray bottle is perfect for use at home. Vital Oxide can also be professionally applied to large areas using electrostatic spraying technology.
If you have any questions about eco-friendly and child friendly cleaning products, or if you would like Grime Stoppers to professionally disinfect your home with our electrostatic Vital Oxide application, contact us today or call 618-223-8445.